Figure 1. Formation of a new damping peak (decoration peak) on the high temperature side of the parent damping peak due to spread-out interstitials; and the simultaneous reduction in the relaxation strength of the parent peak (about by a factor of five) and the proper amount of shift in the peak position to lower temperatures.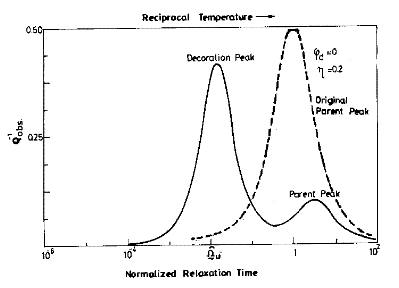 Figure 2. The gradual formation of the apparent subsidiary as well as the main parent peaks upon decoration by dragging defects with slightly greater diffusion activation energies compared with the parent interstitials. For moderate and large migration activation energy differences, the subsidiary peak disappears completely, and only the main parent peak stays rigidly in the stable configuration with respect to its final peak maximum position.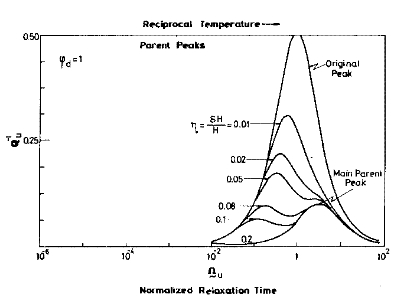 Figure 3. Formation of decoration peaks: Full development of the internal friction peaks, associated with the decorator impurities with various but large differences in the fractional migration activation enthalpies, where the internal friction coefficient is plotted with respect to the normalized relaxation time of spread-out interstitials.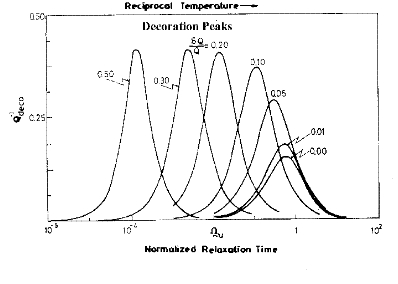 Figure 4. The effect of the relative sticking power , which is a linear function of the relative concentration of decorators, on the position and the relaxation strength of the internal friction peaks associated with the decorating impurity atoms as well as on the parent peak related to the spread out interstitials are illustrated.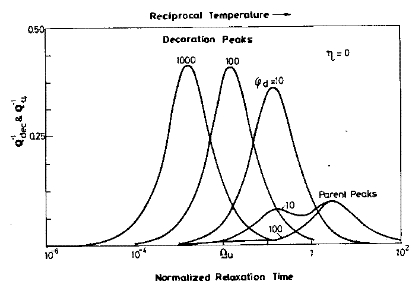 Figure 5. In this computer experiment the effect of kink line density on the strength and the position of the decoration damping peak is clearly illustrated, namely; there is a shift in the peak position towards the low temperature side, and a gradual reduction in the damping strength, upon any increase in the number of kinks.